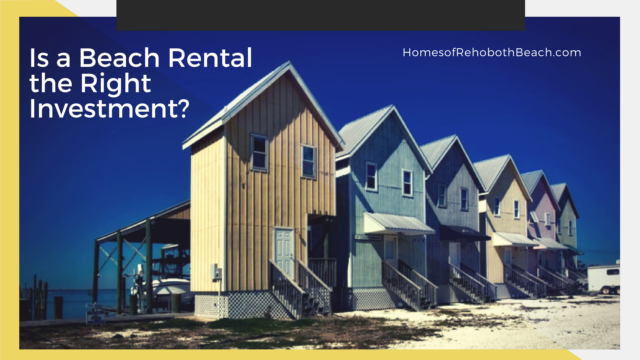 Purchasing a beach house as a second home with the intent to occasionally rent it out can have a great return on investment, boost your income, and of course give you a gorgeous place to vacation whenever you want.
There are many people who buy vacation homes in popular tourist destinations in hopes that renting the property out frequently enough will cover the costs of purchasing the home. The thought of owning a second home on the beach for free seems like a dream. Before you head out to the beach and start looking for properties there are some important financial aspects to discuss purchasing a vacation beach property.
Real Estate Cost
Beachfront properties are going to come with a higher price. The beach is a prime location almost everyone wants to be. Even homes within walking distance of a beach are going to be at a higher price. Now, this is not new or surprising information. Anyone is going to expect to pay more for a beach property. The large cost of a beach home does need to be the first consideration of purchasing one and it can't be overemphasized. A person should be able to afford the payments on a home should renting plans fall through.
The Cost of a Mortgage
The mortgage rate for an investment or property or a second home is going to be much higher than for a conventional mortgage on a primary residence. These loans are seen as riskier so the costs involved with them are going to be higher. Many beach properties are considered luxury homes so these will require what is called a jumbo loan which can be even more costly. It can take a monthly mortgage payment on let's say a million dollar home from $4,774 to $5,368. This is a price example of adding an extra percentage in interest rates for a second home loan over a conventional loan at 4 percent interest. That is a significant price hike on a monthly expense.
Insurance Rates
The homeowner's insurance on a beach property will cost more than on another home. Most states also require a beach home to have flood coverage. The cost of flood insurance is significant.
Bills
The cost of a home is not solely the mortgage payment, especially with a rental. There is taxes, marketing, rental management, utilities, cable, the internet, repairs, and etc.
Property Management
This was mentioned above. If you plan to rent the home you will need to take care of it to get it ready for each new renter and to clean it after they leave. You will also want to just take very good care of the property and keep the maintenance top tier so that renters will want to stay there. Then there is the advertising and marketing so that renters know the property is there and available to rent. If you do this on your own it can take a big chunk of your time and if you hire someone to do it there is a cost.
There are many benefits and great reasons for purchasing a beach property. If you are looking to buy a vacation beach home, consider the true costs, and if it is still affordable we say go for it! Take the adventure. Living on the beach even for part of the year is well worth it.
For more information on homes in Rehoboth Beach please feel free to browse our website or contact us anytime.